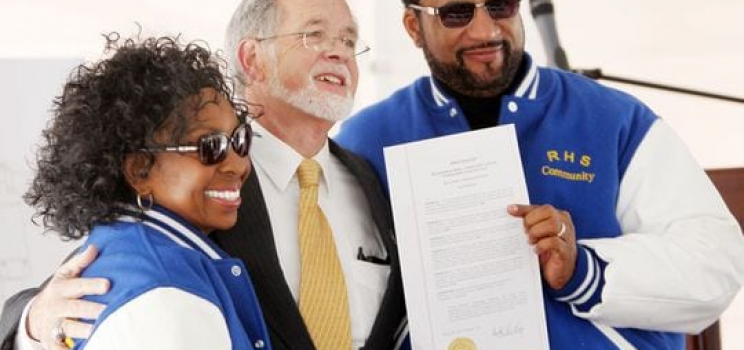 Not for our glory
Famed singer Gladys Knight and husband William "Billy" McDowell have few moments for rest these days. They've been traveling the country for concerts and other ventures, but their hearts remain in Western North Carolina. They have a home in Fairview, but their sights are often set on Canton, where they are moving forward with plans to transform the old Reynolds High School into the Reynolds Community Center.
It was once the only African-American high school in WNC west of Asheville. The 20,000-square-foot building was constructed in 1930 and operational until 1966.
In the past few weeks, McDowell says, they've traveled "by ship, plane and bus. We've been in four different states. We've done award shows, executive produced a Christmas TV show and now headed back to Vegas," where the couple also have a house.
My wife will be home (in Fairview) for one day. I'll be home 48 hours then back to California, where we have a real estate company, and she'll be doing a concert in Houston," McDowell continues. "Then she'll have concerts in Columbia and Durham before arriving back in Asheville."
On Oct. 29, the 73-year-old Knight will headline a concert at the Thomas Wolfe Auditorium to raise money for the community center, along with country band Little Big Town, popular Asheville singer Lyric and other guest performers.
Known as the "Empress of Soul," the seven-time Grammy winner is best known for songs such as "Midnight Train to Georgia" and "You're the Best Thing that Ever Happened to Me."
Efforts by Knight and McDowell to promote the community center won't stop in WNC. Likewise, they hope the mission of this local community center will extend far past its base in Canton and be a help and beacon of hope to many people.
"We're going to do a lot of different things," McDowell says. "We want to go across the country and make it known what we're doing and have fundraising concerts in larger venues."
He says when he was a boy growing up in Canton, he could never have envisioned this $5 million project. However, he did know he would give back in some way.
"I was programmed by my grandfather that, yes, I'd be doing something to give back. I wanted to help my community because my community helped me," he says. "I believe you should be guided by God's divine wisdom. Everyone ever called by God to do something has had doubts. We believed beyond our circumstances. My wife dreams big and she has a lot of faith and I go with it."
Knight says this community center is extremely important to her because it gives her a chance to help others.
"It's really about the children and helping everybody," she says. "It's not for our glory. It's for the love we have for our sisters and brothers and children of this world."
She says when she was a child growing up in Atlanta, she didn't know she was talented. She sang because her parents and grandparents taught her to be obedient and use the gifts God gave her.
"I started to have faith in the talents He gave me," Knight says. "I've always loved people. Even though I lived in the South and it wasn't the greatest environment for people of color, I have always loved people. Now we have an opportunity to really make a difference."
McDowell doesn't have a definitive date for completion of the community center as it will be developed in stages. "Parts of it will open within the next year," he says. "It's a big undertaking, and we're going through a lot of governmental issues."